dinsdag, juni 29, 2004
Last day with Petra
maandag, juni 28, 2004
Doorbreek De Vicieuze Circel
The book Breaking The Vicious Cycle by Elaine Gottschall has been translated into Dutch. Hopefully soon a link for placing an order.
Het boek Breaking The Vicious Cycle van Elaine Gottschall is vertaald in het Nederlands. De titel is Doorbreek De Vicieuze Cirkel. Vanaf september-oktober 2004 is het verkrijgbaar. Misschien binnenkort een link.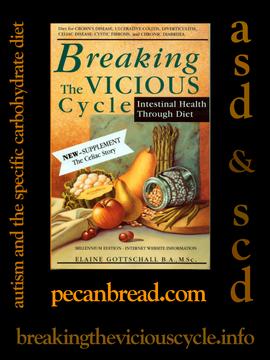 zondag, juni 27, 2004
Reading
Dinner
donderdag, juni 24, 2004
The bee
dinsdag, juni 22, 2004
donderdag, juni 17, 2004
Dinner
dinsdag, juni 15, 2004
Riding the Bike
zondag, juni 13, 2004
maandag, juni 07, 2004
Yes! I can ride a bike
zaterdag, juni 05, 2004
The Gardener
vrijdag, juni 04, 2004
what's on the plate today
donderdag, juni 03, 2004
So what about school...
Ragu Bolognese 'Anna del Conte' (adaptation for SCD)
What is that in my head?
woensdag, juni 02, 2004
Wednesday June 2, 2004
dinsdag, juni 01, 2004
Tuesday, June 1 2004
Honey Nougat
Superb Pancakes